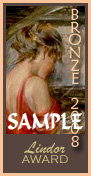 BRONZE:
Author Joel Goulet (Joel) - Official site of author Joel Goulet includes information about his novels and more

Creating dreams, from the nightmares of hell... (Dave) - an inspirational site of hopes and dreams. One life can be lost to addictions and illness, but the hopes and dreams can and will survive with a spiritual awakening

Critter Cache (Maggie) - Our site is dedicated to our dogs, birds, and to rescue!

East Forsyth Senior High School Class of 1979 (Matt) - East Forsyth Senior High School Class of 1979 is a virtual community for the Class of 1979 and a clearinghouse for reunion updates and alumni news and information for class members and other interested parties.

Heather's Huntington's Disease Page (Heather) - I made a positive, comprehensive website. It has a blog, care giving tips, ways to fight brain fog, myths, my story, my family's story, history, ways to have a positive testing experience, and ways to cope.

Kazakh Adoptive Families (Susan) - Information about Kazakhstan and international adoption, for adoptive families or anyone interested in learning more about Kazakhstan. Unique sections on the Kazakh language and names.

Kevin J. Anderson - Personal site featuring poetry and theatre resume.

Matt Wallace's The Compleat Heretic (Matt) - Personal web site of an economic and social conservative, Republican, Teamsters union member, moral traditionalist, pro-life, U.S. Army veteran, NRA Benefactor Life Member, Secular Humanist atheist

McCartney's Journeys in Genealogy (George) - The site contains the research that I have done on my McCartney genealogical line, including stories and family legends. It also has a section where other people researching McCartney lines can post their data. Finally, there are articles about the Celts, Cordwainers (shoe makers) and other topics of interest to family historians.

One Person Can Make A Difference..Save Apes (Karen) - Primate conservation and issues dealing with mining, palm oil, deforestation and lab research cruelty for knowledge of how they are treated so not sure if that applies to your animal cruelty and not suitable for children part. But it is to educate people solely. Not too graphic.

Our Great Southern Land (Jayne) - An eclectic mix of personal observations and Australian history presented in a fun way.

Schwabenland - Michael's Sidhe (Michael) - On my private homepage youŽll find some information about Stuttgart-Germany, the southwestern part of Germany, my family, our little kitties, me, fine midis, a virtual postoffice and other stuff.

The Fite Family (Troy) - Fite Family - A Biographical and Genealogical Narrative of The Johannes Branch of Fites in the United States

Woodstock - Preservation Archives (Joanne) - Dedicated to the Historic Preservation of the Site of the 1969 Woodstock Music and Arts Festival

World Paper Currency Gallery (Arvind) - Site contains over 2000 images of hard to find paper currency of over 300 countries.