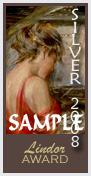 SILVER:
1876 Victorian England Revisited (Betty) - Travel back to 1876 Victorian England and experience middle class life as it was then.

Atlantis Revealed (Michele) - The myth of Atlantis: legends, findings and virtual pictures

ChamownersWeb (David) - It is the purpose of this website to entertain and educate you about OLD WORLD CHAMELEONS. "Old World Chameleons" are members of the family Chamaeleonidae. They possess several unique characteristics from their lightning fast and laser precise tongue, to their independently turreted eyes with nearly 360 degree vision. Their prehensile tails act as a fifth leg giving them greater reach in their travels through the trees. These factors coupled with their unmatched ability to change color as their environment warrants lends these fascinating creatures to many myths and legends.

Model Railroading by Bill Parisi (William) - My "Island Valley Railroad" hi-rail model railroad layout. Pictures of my 3-rail O-scale layout under construction. Pictures of model railroad layouts I have visited, and rail fan pictures. Links to model railroad and railroad related sites.

Salamanders Young Burn Survivors (Sylvia) - Designed for children and young people, this site gives information on burns and first aid and has links to further information, plus a contact base for burn survivors.

Understanding the World Today (Gene) - Easy to read reports about global social, political, economic and demographic trends. Links to data, theory, research.

UNOstamps.nl (Maxim) - Stamps and information on the United Nations and the UN system

Voices of Spirit (Sarah) - Information and teachings for those seeking spiritual understanding and development. Guidance and healing from Spirit on life and spiritual issues given with honesty, integrity and professionalism.

World Traveller (Robert) - A collection of paintings and photographs created during my travels around the world; art tuition, help and website assistance to amatueur artists.