A Really Enchanted Short Journey
1996 December
Three days in Sidney, six in the Desert and three in Melbourne.
Advices

If you would like to go to the Desert,
when you are in Alice Springs,
you should buy a NO FLYES CAP.
Flyes are very,very noisy!

If you are going to travel around the Desert,
it' really comfortable to rent a jeep like this with beds, gas cooker,sink and refrigerator.
It's just a little expansive!
Don't forget to do insurance against kangaroo.
We met some people that have had their car destroyed in a crash with a kangaroo!
When you are in Melbourne,
don't forget to go to see the Penguin's Parade!
The little Penguins have been
the most amusing thing of my journey!

The holy mountais
Far from, while you are approaching it by car,
you have the perception of its to be magical.
You see it, alone, in the middle of the desert plain.
You feel its Energy.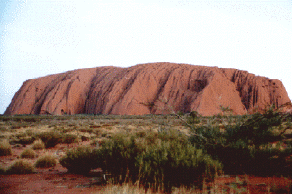 When you arrive, first of all you could drive around it.
You'll see it from different views.
It's really surprising: this rock changes itself continually!
Then you could walk around it.
You'll feel much more the solemnity of this place!
There is the vibration of Aborigenal Spirituality.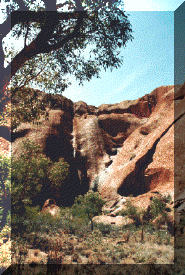 The most moving and, in the same time, tiring thing it's to climb it up.
You can go up only ultil 9.00 a.m. (strict rules!).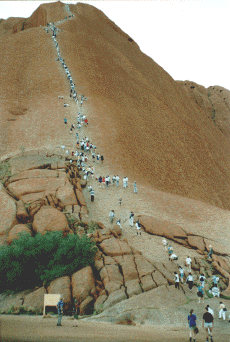 This mountain is really steep!
You need one hour to arrive at the end of the climb!
After this big labour, you have to walk on the Rock until the last top.
There is a soft and undulated path marked with a white line.
Only when you are here, on the top, you'll be able to understand
the true solemnity of this mountain!
You look around and see the unlimited desert below you.
You feel the warm and strong wind blowing all around you.
You have the perception that this scarlet rock quivers for the earth's energy.
Here, you are part of the Universe.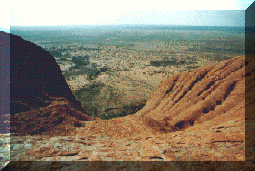 You would never go down!

Don't forget:
1) at 7.00 p.m. you should go to the Sun Set Point
to see the Mountain's colour when sun is setting.
2) at 5.00 a.m. you should go to the Sun Rising Point
to see another different color of the Rock.
Then you can climb it up.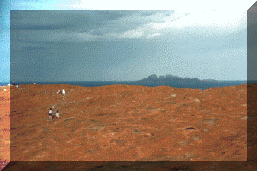 From the top of Ayers Rock, you see the
Olgas Mountains
Just some puddings of scarlet rock!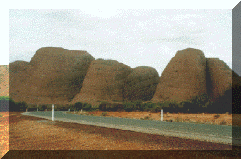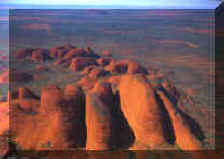 Palms in the Desert!
(two hours of hard driving: you are alone with the palms. There is nobody!)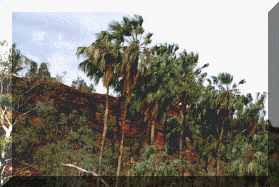 Water in the Desert!
(would you like to swim?!!)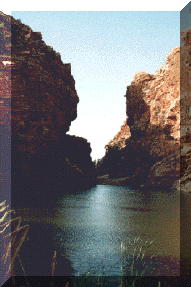 Apocalyptic landscape!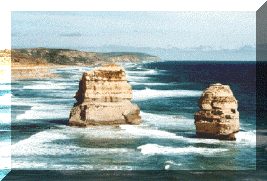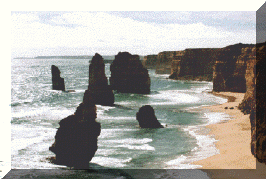 Links
*Travel Australia Now!
*Travel Australia Internet

Australia :: Brazil :: Egypt :: India :: Marocco :: Mexico :: Venuzuela
Italiano Main :: Lindor Home Page Ingresso :: English Main
E-Mail