...Chocolate is my "drug"...














At once I suggest you
The Link of the Links
(this is my roots!)

and, than, my choco links:
Compagnia del Cioccolato Home Page
Il chocoshop della Compagnia del Cioccolato
Eurochocolate Roma Home Page
CIOCCOLATO che passione
Cioccolata & C-il lato dolce della vita
QUADRATINO DI MILANO
Chocoholic.com
SEND a Virtual Chocolate
Here you can find some
Choco Recipies!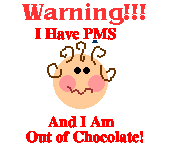 Now you should read this nice and unexpected gif
that I received from the internet:
"A Drug called Chocolate"
Written for Lindor of Italy
and her Chocoholic website
by Kale Liam Hobbes

Chocolate is a drug you say? (i must agree with you!)
'Cause every time i eat some, "Romance" goes rushing through
Me; like a wild fire burning out of control;
But my sweetheart's not complaining (or so i have been told!)
So, i try to leave the stuff alone - to me it is forbidden;
But somewhere in my house, i'm sure, a secret stash is hidden!
Because my darling loves to tease and taunt me in this way;
Then after i have had my fill, we then proceed to play!
Now as my later years approach, i'm left with a puzzling thought;
Should i be happy i'm so loving, or sad that my teeth will rot?















My Secret Sister has done
a really sweet chocolate page for me!
Please, go to see it!
Click HERE!














Chocolate is my "drug"...
and the Chocoholics Ring is my heaven!