Qualcuno ha scritto che il Cioccolato
"...e' la cocaina degli intelligenti,
l'anfetamina di chi ama
appassionatamente l'esistenza..."
Per quanto mi riguarda...
..."Chocolate is my Drug!!!"
E per questo motivo ho ricevuto dall'Internet
questo simpatico ed inaspettato regalo:
"A Drug called Chocolate"
Written for Lindor of Italy
and her Chocoholic website
by Kale Liam Hobbes

Chocolate is a drug you say? (i must agree with you!)
'Cause every time i eat some, "Romance" goes rushing through
Me; like a wild fire burning out of control;
But my sweetheart's not complaining (or so i have been told!)
So, i try to leave the stuff alone - to me it is forbidden;
But somewhere in my house, i'm sure, a secret stash is hidden!
Because my darling loves to tease and taunt me in this way;
Then after i have had my fill, we then proceed to play!
Now as my later years approach, i'm left with a puzzling thought;
Should i be happy i'm so loving, or sad that my teeth will rot?















Per cominciare vi suggerisco
nuovamente il Link dei Links
(...la mia anima! O meglio il mio cuore...)














Qui troverete i ...
Criteri di degustazione del Cioccolato














...dovete sapere che
la mia Secret Sister delle Net Sisters mi ha fatto
una golosissima pagina al cioccolato!
Vi prego, andate a vederla!
Click HERE!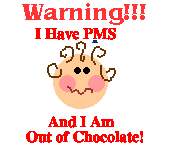 Ora vorrei proporvi alcuni links al Cioccolato:
Compagnia del Cioccolato Home Page
Il chocoshop della Compagnia del Cioccolato
Eurochocolate Roma Home Page
CIOCCOLATO che passione
Cioccolata & C-il lato dolce della vita
QUADRATINO DI MILANO
Chocoholic.com
SEND a Virtual Chocolate
e, se vi interessano,
ho anche delle ricette a base di cioccolato:
Marroni in Fonduta
Cubetti al Cioccolato
Choco Recipies in Inglese
Chez Anna torta al cioccolato















Infine, giÓ lo sapete, poiche' il cioccolato
e' la mia fonte di vita e d' energia,
non potevo non iscrivermi al
Chocoholics Ring!
Se anche voi siete piacevolmente dipendenti
da questo dono divino fatevi un giro nel Ring,
oppure, meglio ancora, se la Vs. pagina
ha una qualche attinenza
con Sua Maesta' il Cioccolato inseritevi!
Saremo ben lieti di essere in tanti!